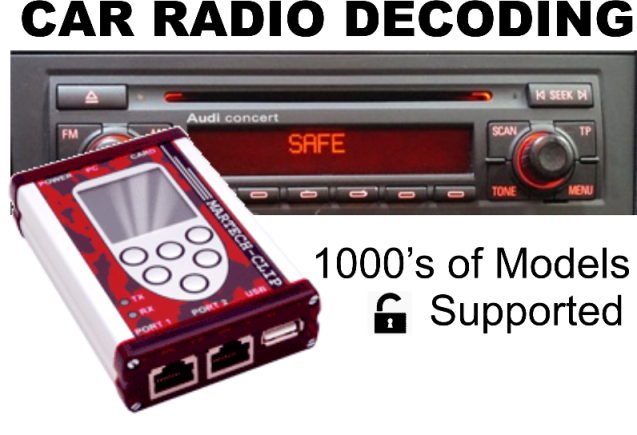 CAR RADIO DECODING





What is this?


Modern car stereos have anti-theft, electronic security codes, which are required if the car battery is disconnected or if the radio is removed from the car.

The radio display, will no longer show the radio station or CD operation, instead it will show 'CODE' 'SAFE' 'LOCKED' 'CODEIN' or a similar message indicating a code is required.

You will require this service if...
Decode options...
There are two ways to have your car radio decoded, the quickest and least expensive way is by serial number, this can be done by sending us a unique serial number from your car radio, we can then calculate and send your code by email.

The other option involves sending your car radio to our workshop for 'manual decoding' the links below are for the models supported by serial number decoding.

We can decode / unlock the majority of car radios / CD / Navigation units at our workshop, always check to see if your model is covered by our serial number service.

If you need help, or more details, please contact us for more details.


---


FORD CODES
The serial number
usually starts with
M or V followed
by 6 Numbers.
FORD LS RNS NAV
We need both
numbers from the
label on the side of
the stereo.
BLAUPUNKT CODES
The model and
serial number is
required to get the
radio code.

RENAULT CODES
We need a Letter
and 3 numbers
which is printed on
a label on the unit.

---

MANUAL DECODES
For units NOT
supported by
serial number
decoding.
PHONE US
Give us a call or
send an email.


VISIT OUR SHOP
Come to our shop
and have your car
stereo decoded.

POST YOUR DECODE
Post your car stereo
to our shop
and have it decoded.